I. Rules And Terms Applicable
Approved according to Official Letter No. 15204/BTC-QLBH dated December 13, 2019 of the Ministry of Finance and issued under Decision No. 125/2019/QD-TGD dated December 31, 2019 of the General Director of JSC OPES Coverage and Supplemental Terms are issued therewith.
II. Trip Care Insurance Purchase Process On App TNGo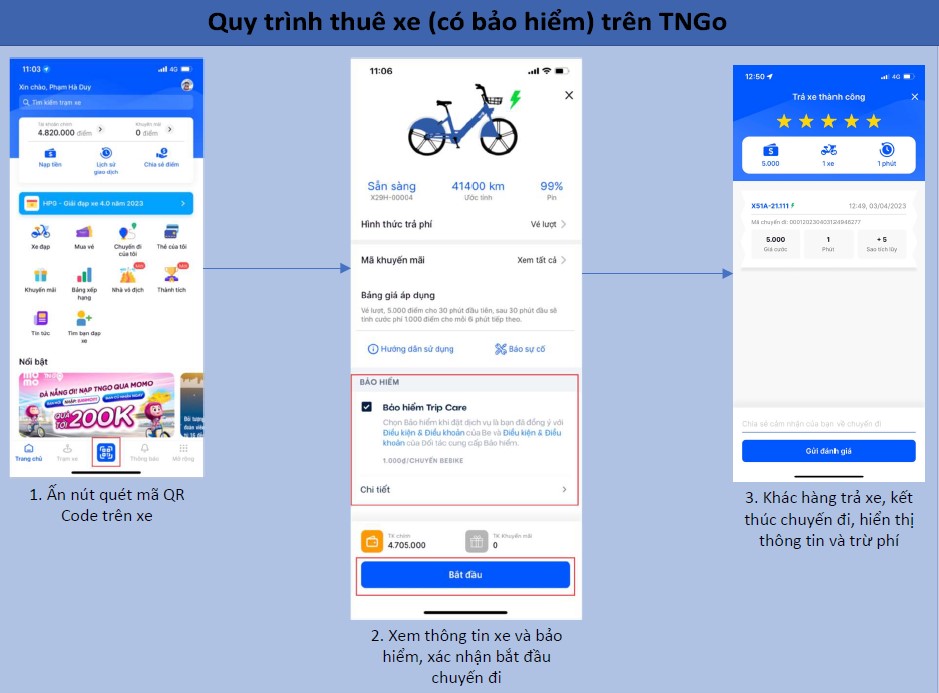 III. Insurance Program
Table 1: Benefits and Insurance Amount (Unit: VND)

| Numerical order | Insurance benefits | Insurance policy/person/term of insurance |
| --- | --- | --- |
| 1 | Accidental death or permanent disability | 150.000.000 |
| a | Death or Total Permanent Disability | 150.000.000 |
| b | Permanent Partial Injury (calculated by TT-PL2 ratio) | 150.000.000 |
| 2 | Temporary Injury | 15.000.000 |
| 3 | Income Allowance | 4.500.000 |
| a | - Amount of allowance per day | 150.000 |
| b | - Maximum number of days in hospital | 30 |
| 4 | Mất GTTT, thẻ NH | 500.000 |
Table 2: Premium (Unit: VND)

| | One-way ticket | Day ticket | Monthly ticket |
| --- | --- | --- | --- |
| Duration of insurance | Up to 2 hours | Up to 450 minutes/day | Up to 60 hours/month |
| Insurance fee (including VAT) | 1.000 | 6.000 | 24.000 |
Duration of insurance
- The period of insurance contract is valid from the time the Insured starts renting a car through the TNGo application, moving and returning the bike at TNGo bike stations, up to the maximum number of hours specified in the insurance packages.
Geographical scope: Viet Nam
VI. Insurance Liability Exclusion
The Insurer will not pay benefits if the insured event occurs due to (or is caused by) any of the following events:
1. Intentional act/fault of the Policyholder, the Insured, the Beneficiary;
2. The Insured Person fights (unless proven to be self-defence), competes or practices professional sports or any professional racing activity;
3. The Insured's suicide or self-injury (except in the case of an attempt to save a life) whether or not in a state of civil act capacity; Disappearance not due to Accident;
4. The Insured Person violates criminal laws or violates traffic laws such as: racing, driving a vehicle without a valid driving license, entering a forbidden road, going in the opposite direction / going backwards on a highway;
5. The accident occurred directly due to the Insured Person's use of alcohol/beer or alcohol in excess of current regulations, illegal use of drugs and stimulants. Stimulants are understood in accordance with the Rules as substances that the Insured Person uses to cause addiction, nerve paralysis, loss of control of his or her actions that are prohibited by law.;
6. The Insured Person suffers from food and drink poisoning, inhalation of toxic gas or gas (except for the case of participating in food and beverage poisoning insurance benefits, inhalation of toxic gas and toxic gas);
7. The Insured Person has a sudden cold, is hit by the wind; diseases; maternity; occupational disease; complications during medical treatment and pregnancy;
8. Air operations (unless as a passenger on fixed-schedule commercial flights), military exercises, training, combat engagements of the armed forces;
9. Other exclusions are set forth in Article 4. The exclusion of liability of the Rules of Insurance is set forth in Part I of this document..
V. Subjects Participating Insurance
Screening information about the insured:
- OPES only accepts insurance and; be responsible for paying insurance premiums in case the Insured fully meets the following conditions at the time of participating in insurance.:
Age from full 01 years old to 65 years old (age is calculated according to the birthday immediately before the start date of the insurance period);
Not mentally ill, leprosy;
No permanent disability 50% or more;
Not currently undergoing treatment for an injury.
- The remaining conditions OPES does not appraise at the time of issuance of the Policy and will be determined in the event of an insured event.
- In the event that the Insured does not provide the date of birth of the Insured, OPES does not verify the above conditions at the time of issuance of the Policy and will be determined in the event of occurrence of the insured event.
VI. Early Termination of Insurance Policy
VII. Compensation Guide
1. Time limit for notification of insured event in case of occurrence of insured event:
- Request the Insured or the Beneficiary (or their representative) to notify immediately to the Insurance Company of the insured event and notify the Insurer in writing within 30 days from the date of the insured event, except for delay due to objective reasons and force majeure as prescribed. under the law.
2. Insurance benefits settlement process
Table 3: Process of settling insurance benefits
Implementation Step
Detailed instructions
Step 1: Notice of risk/request for settlement of insurance benefits
When there is a risk within the scope of insurance, the Customer needs to notify/send a claim to OPES via email/ hotline/ claim website.:
Step 2: Complete the application for settlement of insurance benefits

Immediately upon receiving information requesting benefits settlement
Customer's insurance, OPES will have documentation instructions/
Instructions for completing an insurance claim
to Customers via zalo/ email/ eClaim;
In some cases, customers need to send hard copies
some documents requesting settlement of insurance benefits
about OPES in order to complete the claim settlement of benefits
insurance (the above requirements will be specifically guided by OPES
via zalo/ email/ eClaim).

Step 3: Receive notice of settlement of insurance benefits
Within 05 working days from the date of receipt of the complete application for settlement of insurance benefits, OPES will send a Notice of plan to settle insurance benefits to customers via email/eClaim.
Step 4: Receive insurance payment
Within 02 working days after receiving the Customer's confirmation of consent on OPES's insurance payment plan, OPES will complete the payment of compensation to the Customer.
VIII. Acronyms Explanation of Abbreviations
Table 4: Explanation of acronyms

| # | Acronyms | Explanation of acronyms |
| --- | --- | --- |
| 1 | OPES | OPES . Insurance Joint Stock Company |
| 2 | HĐBH | An insurance contract |
| 3 | GCNBH | Insurance certificate |
| 4 | GYCBH | Insurance claim form |
| 5 | BMBH | Insurance buyer |
| 6 | NĐBH | Insured person |
| 7 | QLBH | Insurance benefits |
| 8 | QTĐK | Terms and Conditions |
| 9 | GTTT | Identification |
| 10 | CTBH | Insurance plan |
| 11 | HDNV | Career guildline |
| 12 | KH | Customers |
| 13 | Ban PTSP và QLNV | Product Development and Business Administration |
IX. Customer's confirmation
By requesting insurance and paying a full premium under this Insurance Plan, the customer confirms that he/she is eligible; read, understand and agree to all the terms and conditions specified in the Rules of Insurance Terms and Conditions of the Insurance Plan in this document. Documents related to the Insurance Policy OPES issued to the Customer are issued at the request of the Policyholder in the form of an electronic document, attached with QR code, OPES MACCODE and original. You can look up your e-Certificate of Insurance and related information.